Sonny Angel is an irresistible collectible doll from Japan. As your tiny friend, he is always by your side, to protect you, comfort you, and make you smile… that is Sonny Angel's mission.
A major feature of the Sonny Angel Mini doll series is that each series consists of the 12 different headgear in "blind box packaging". You do not know which one you will get until opening the package. You will be excited and have fun to see what is in there.
The first Sonny Angel was introduced in March 2005. Soon after, a mini figure series was released, the "Animal Series 1" wearing animal headgear. Sonny Angel's birthday is May 15th, 2004.
Mini Figure  |  Limited Edition  |  Artist Collection
---

Sonny Angel Mini Figure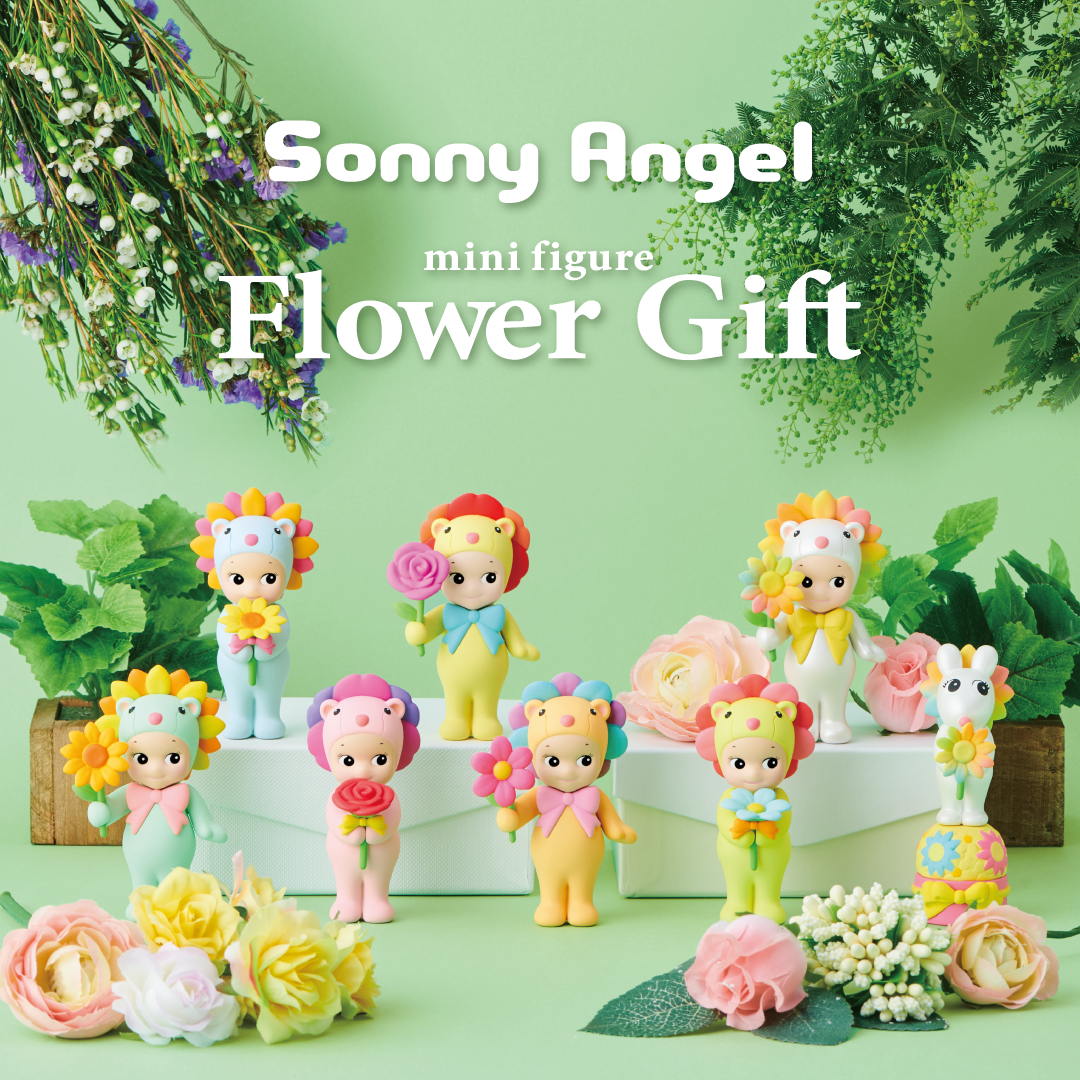 Flower Gift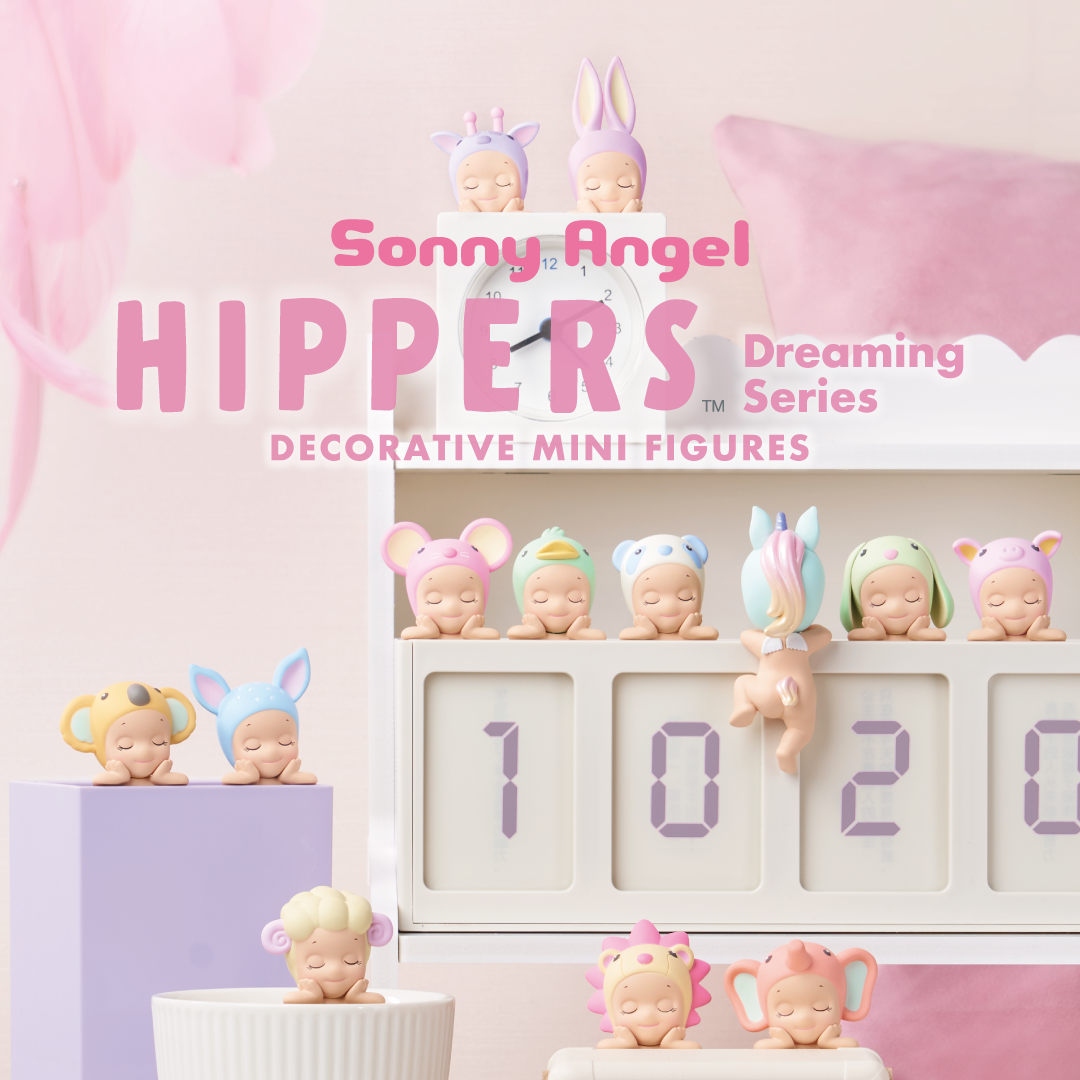 Hippers Dreaming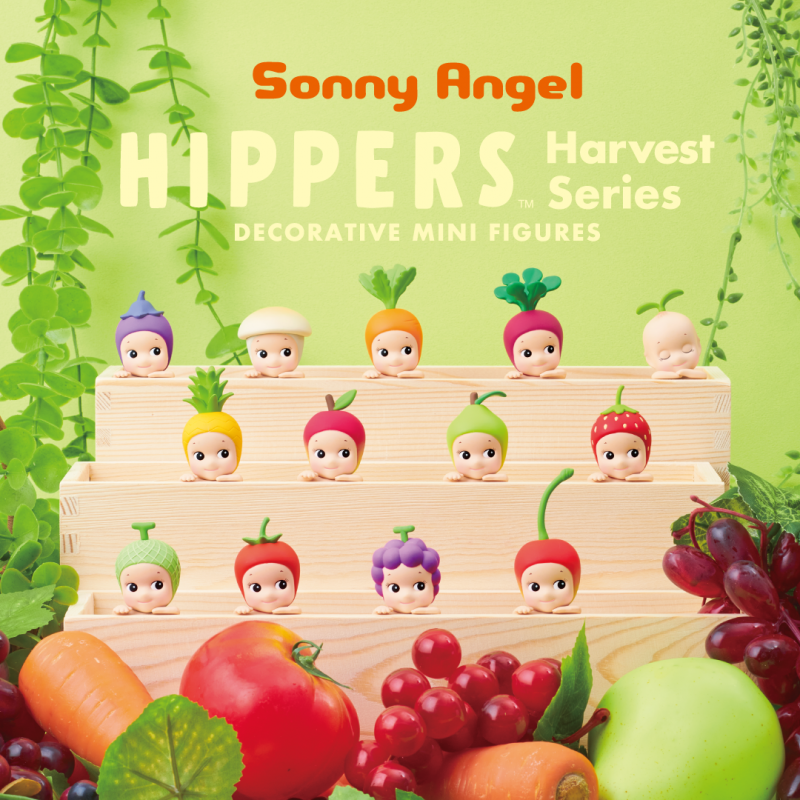 Hippers Harvest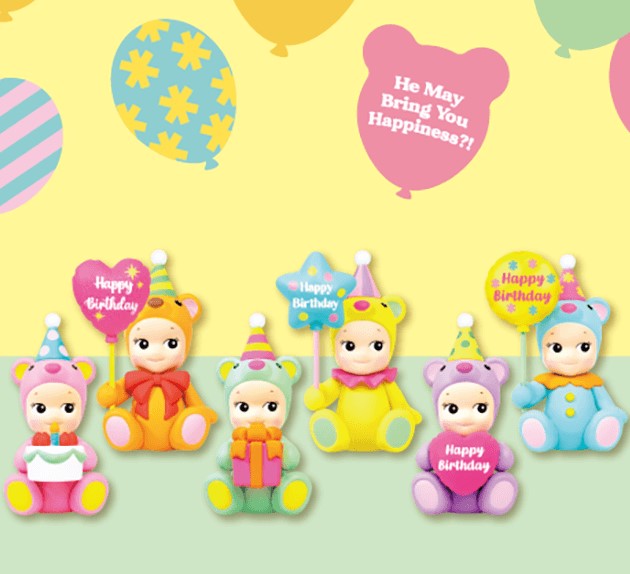 BIRTHDAY GIFT -Bear-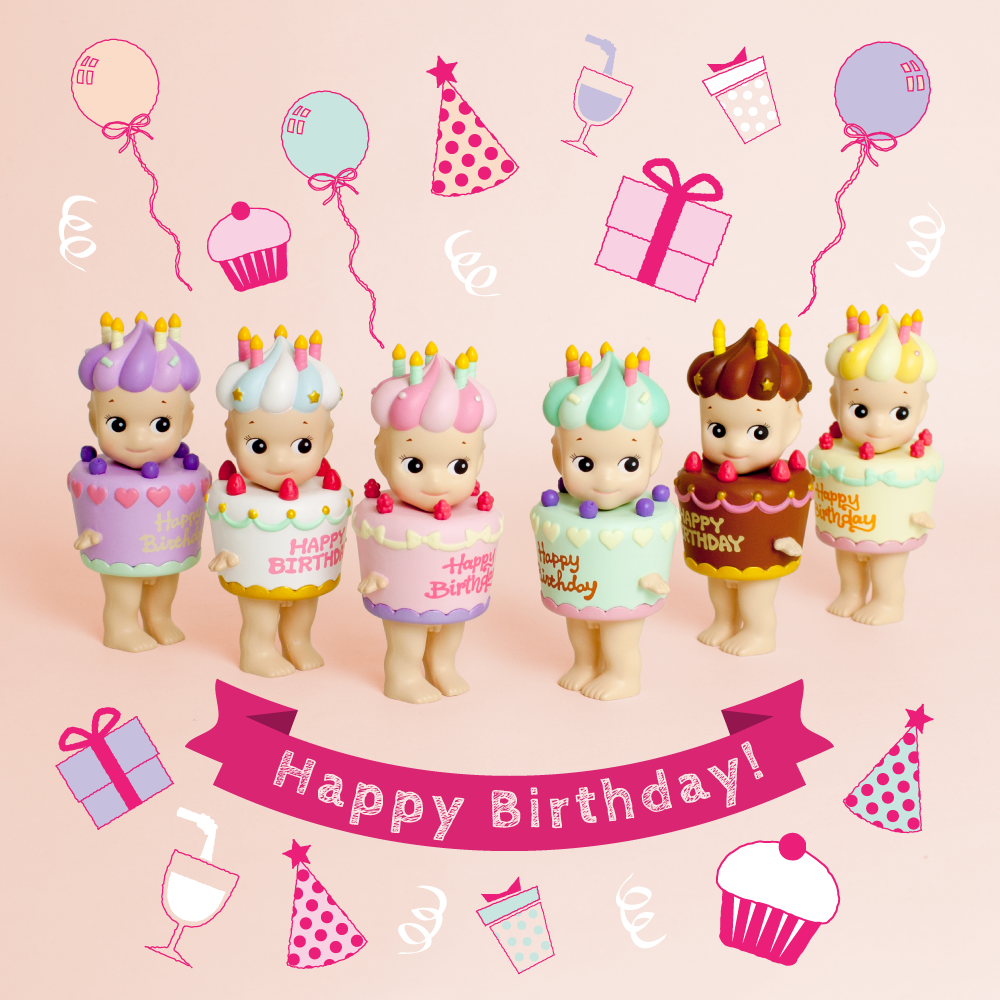 Birthday Gift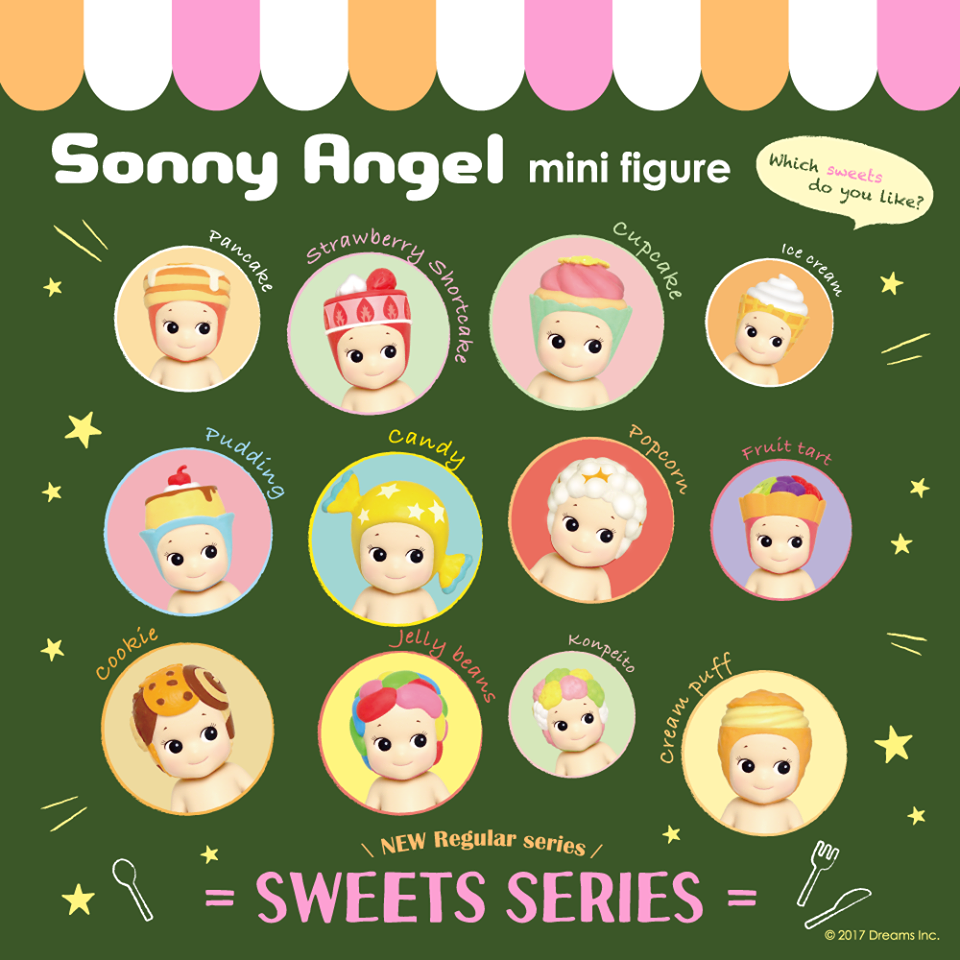 Sweets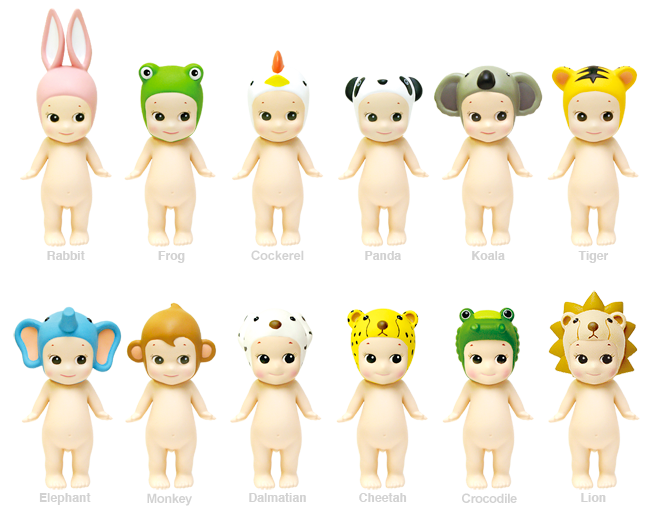 Animal 1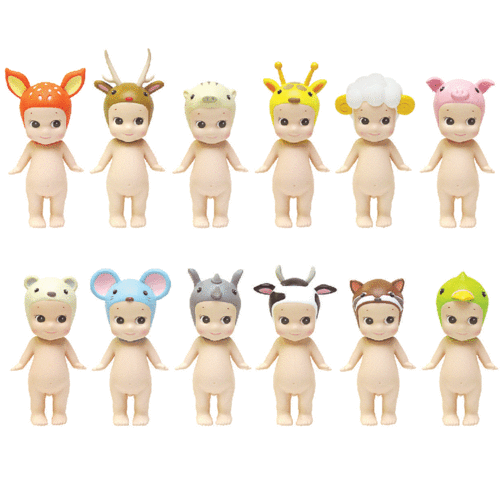 Animal 2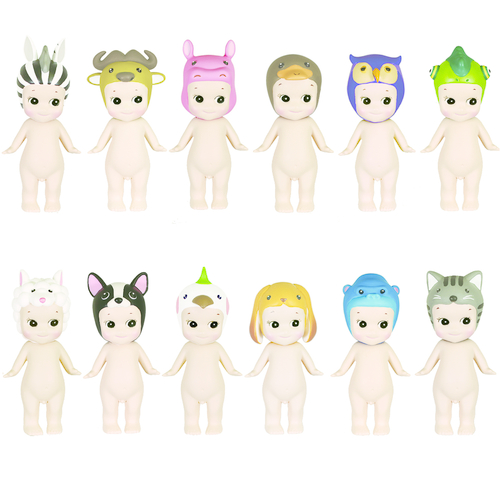 Animal 3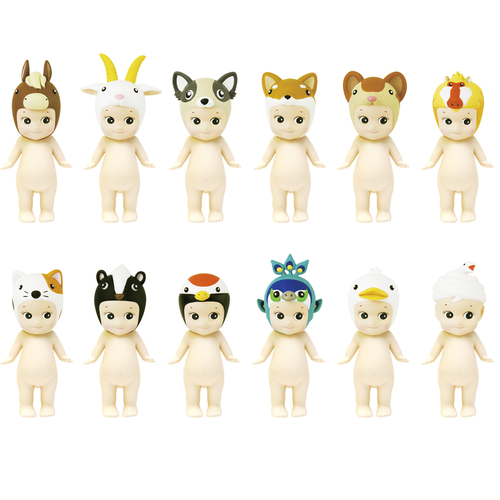 Animal 4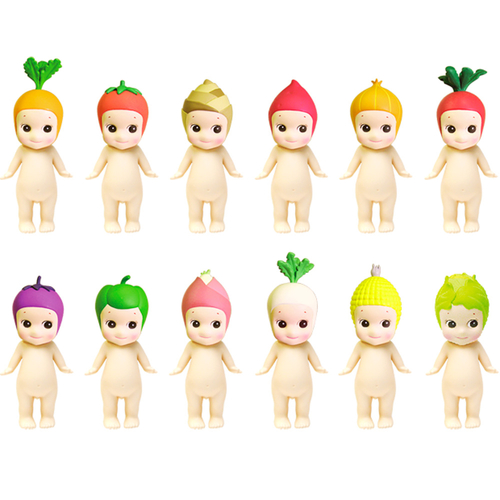 Vegetables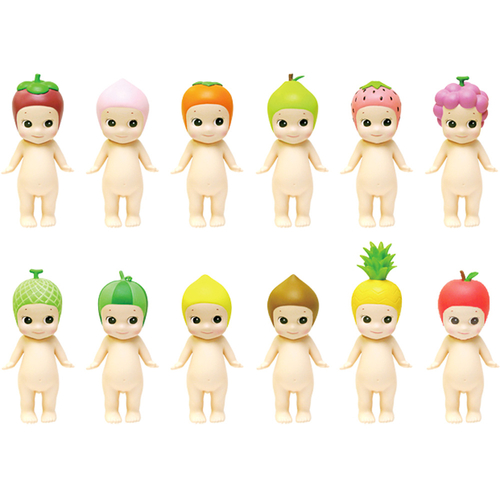 Fruit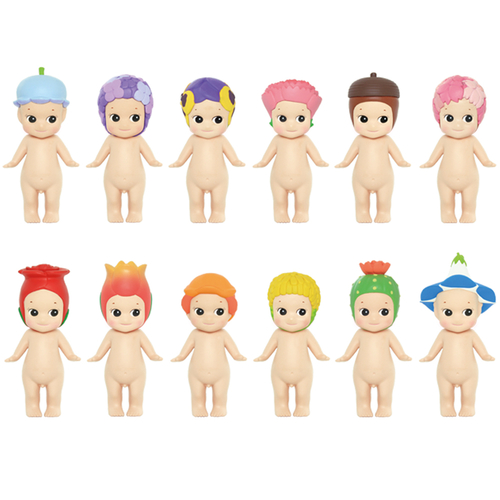 Flower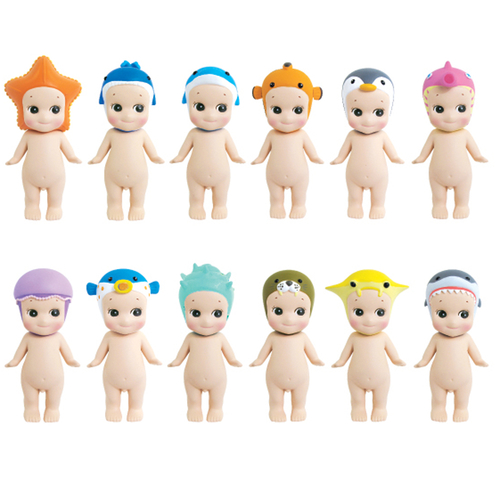 Marine
Flower Gift

This new Sonny Angel special series is sure to be a new favorite among fans.
Sonny Angel Lions are presenting flowers and have manes decorated with matching blossoms. The Sunflower, Daisy and Rose each has a specific meaning… longing, hope and beauty respectively.

These mini figures will help you convey your feelings of love and appreciation to the recipient. Flowers are said to have a healing effect and these Sonny Angels make you feel happy just by looking at them.

The package, which is designed with a ribbon in the image of a bouquet, is easy to give as a gift. There is also a space where you can write a message.

There are 6 types of figures + 2 secrets for a total of 8 types. Half the fun is finding out which Sonny Angel you will meet when you open the package.

Item no.: 44FG

A display contain 6 dolls. There is no guarantee to get the total lineup in one display.

Hippers Dreaming

The theme for this third HIPPERS series is "Dreaming". Some of the most popular Sonny Angel animals are now available in soft pastel colors. They appear to be snoozing on a cloud and their peaceful looks soothe our hearts. We can only imagine what they are dreaming about!

You can attach HIPPERS to any flat surface with the supplied adhesive tape. You can remove and reattach the adhesive several times. *Adhesive strength may decrease depending on the material and condition of the surfaces to which it is attached.

Item no.: 44HD

There are 12 types of figures + 1 secret for a total of 13 types. Half the fun is finding out which Sonny Angel you will meet when you open the package.



Hippers Harvest

The theme for this second Hippers series is "Harvest", calling to mind a seasonal bounty of fruits and vegetables.

In addition to decorating smartphones and computers, this series will bring you happiness when you fix them on dining tables, in the kitchen, or even on to flower pots.

You can attach HIPPERS to any flat surface with the supplied adhesive tape. You can remove and reattach the adhesive several times. (Adhesive strength may decrease depending on the material and condition of the surfaces to which it is attached.

Item no.: 44HH

There is no guarantee to get the total lineup in one display.

BIRTHDAY GIFT -Bear-

BIRTHDAY GIFT -Bear

Sonny Angel, wearing a plush bear costume, will help to celebrate your birthday or your friend's special day with balloons, cakes and presents. Sonny Angel is sitting like a plush bear sweetly presenting gifts.

There is a space on the top of each package where you can write the name of the person to whom you will give this special BIRTHDAY GIFT. Share your love of Sonny Angel with those you love.

Figures comes in a blind box and let's open the box to see what you get!

Total lineup of 6 different figures + Secret figures. One assortment box contains 12 blind boxes. (*The secret figures are distributed randomly and may not always be included in one assort box.)

Item no.: 44BIB

Birthday Gift

Sonny Angel - Birthday Gift

This time Sonny Angel come dressed in adorable birthday cakes! Decorated in motifs such as heart shapes and ribbons made them so gorgeous and adorable.

The new package with a space to write your own message as a gift.

These Sonny Angels are perfect as a birthday gift, or to add to your own collection!

1 piece. 6 kinds. Blind Boxed.
Plus secret figures and Robby Angel to look out for.
Please note secret figures appear randomly.

Item no.: 44BI

Sweets

Sonny Angel - Sweets

All figures are randomly packaged in blind boxes. Which means, you won't know which figure you'll get until you open the box! Total of 12 different figures + 1 Secret figure. One assort box contains all 12 figures of series. Chance of getting the secret figure is 1/144.

Height from approx. 7,5 cm

Item no.: 44SW

Animal 1

Sonny Angel - Animal series 1

All figures are randomly packaged in blind boxes. Which means, you won't know which figure you'll get until you open the box! Total of 12 different figures + 1 Secret figure. One assort box contains all 12 figures of series. Chance of getting the secret figure is 1/144.

Height from approx. 7,5 cm

Varukod:44D5

Animal 2

Sonny Angel - Animal series 2

All figures are randomly packaged in blind boxes. Which means, you won't know which figure you'll get until you open the box! Total of 12 different figures + 1 Secret figure. One assort box contains all 12 figures of series. Chance of getting the secret figure is 1/144.

Height from approx. 7,5 cm

Varukod:44D2

Animal 3

Sonny Angel - Animal series 3

All figures are randomly packaged in blind boxes. Which means, you won't know which figure you'll get until you open the box! Total of 12 different figures + 1 Secret figure. One assort box contains all 12 figures of series. Chance of getting the secret figure is 1/144.

Height from approx. 7,5 cm

Varukod:44D3
---

Mini Figure Limited Edition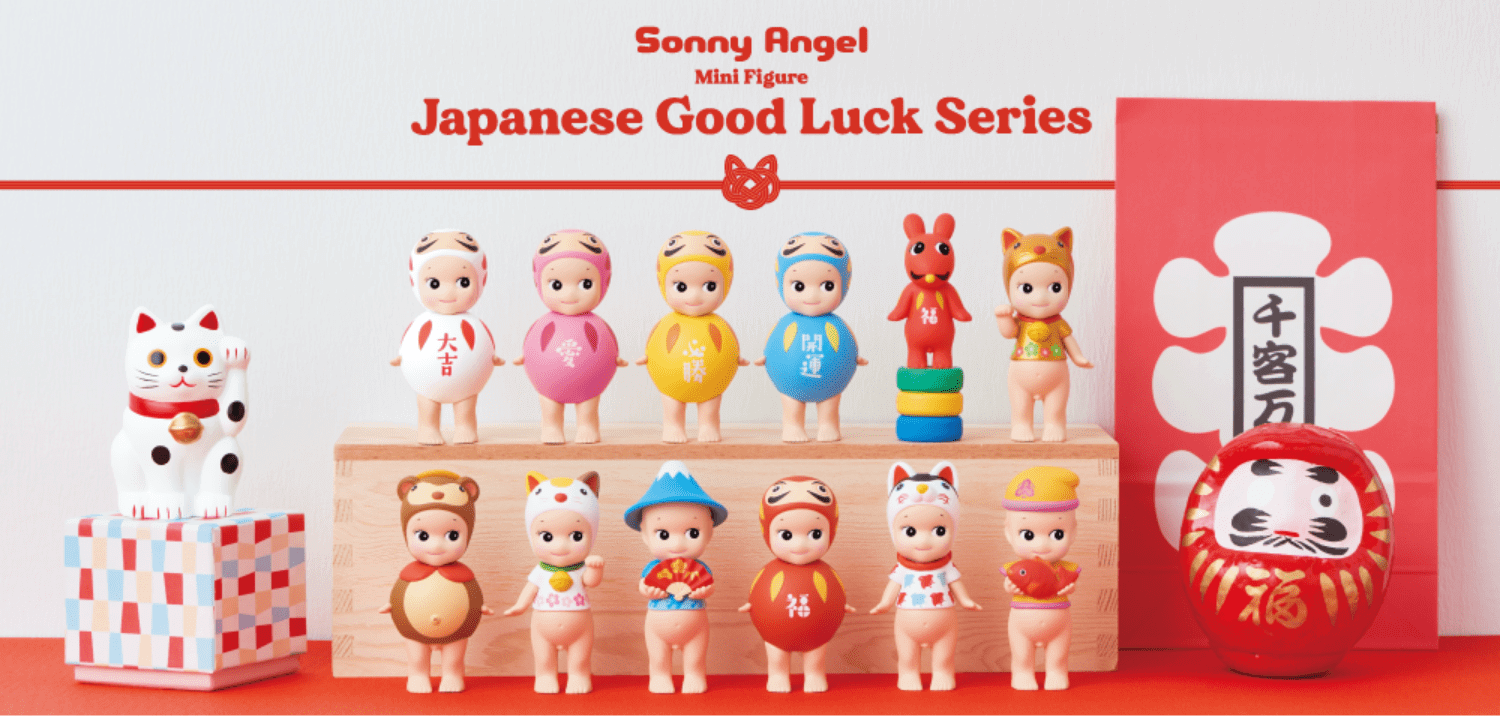 Japanese Good Luck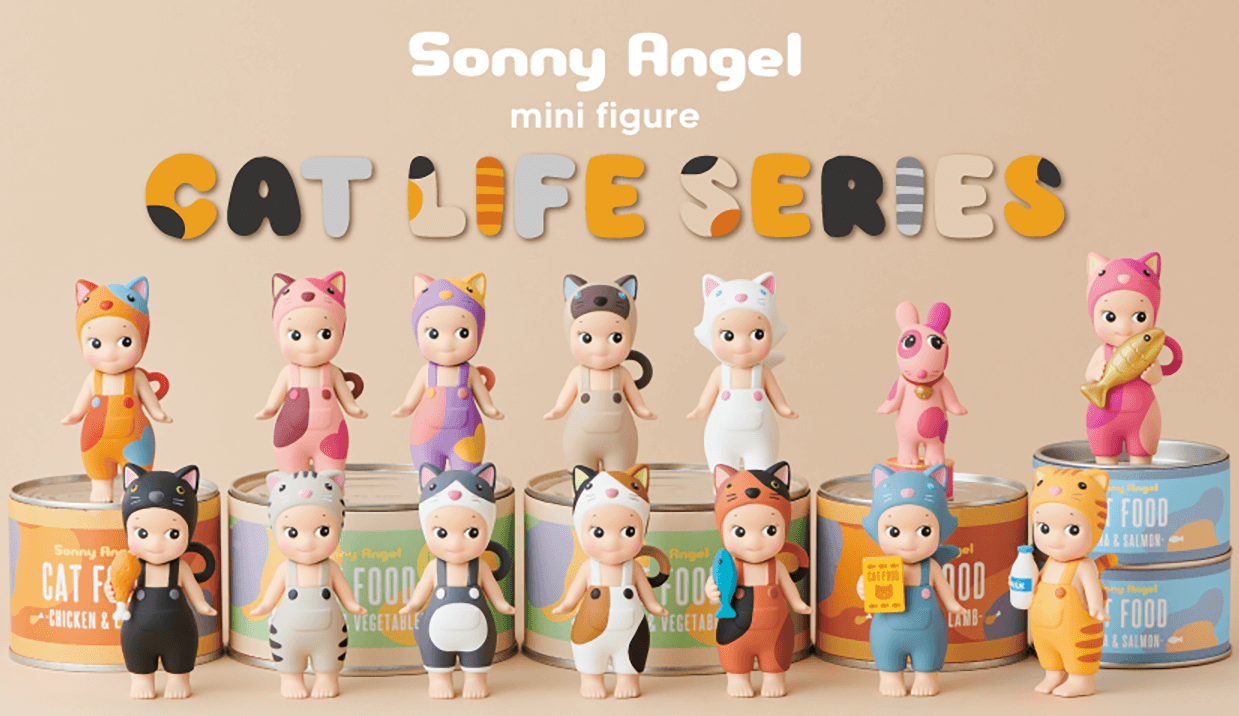 Cat Life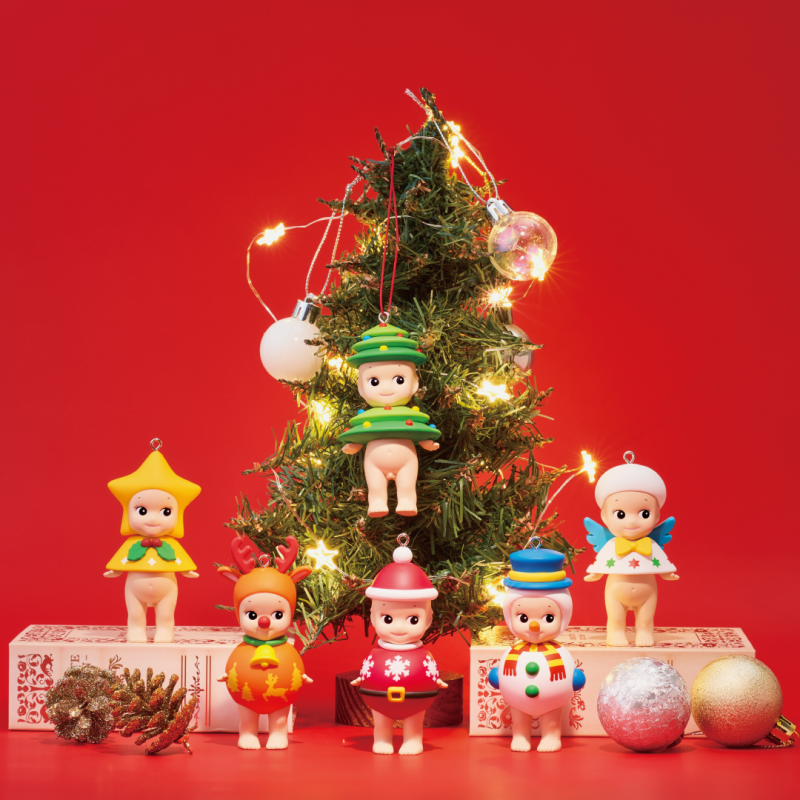 Christmas 22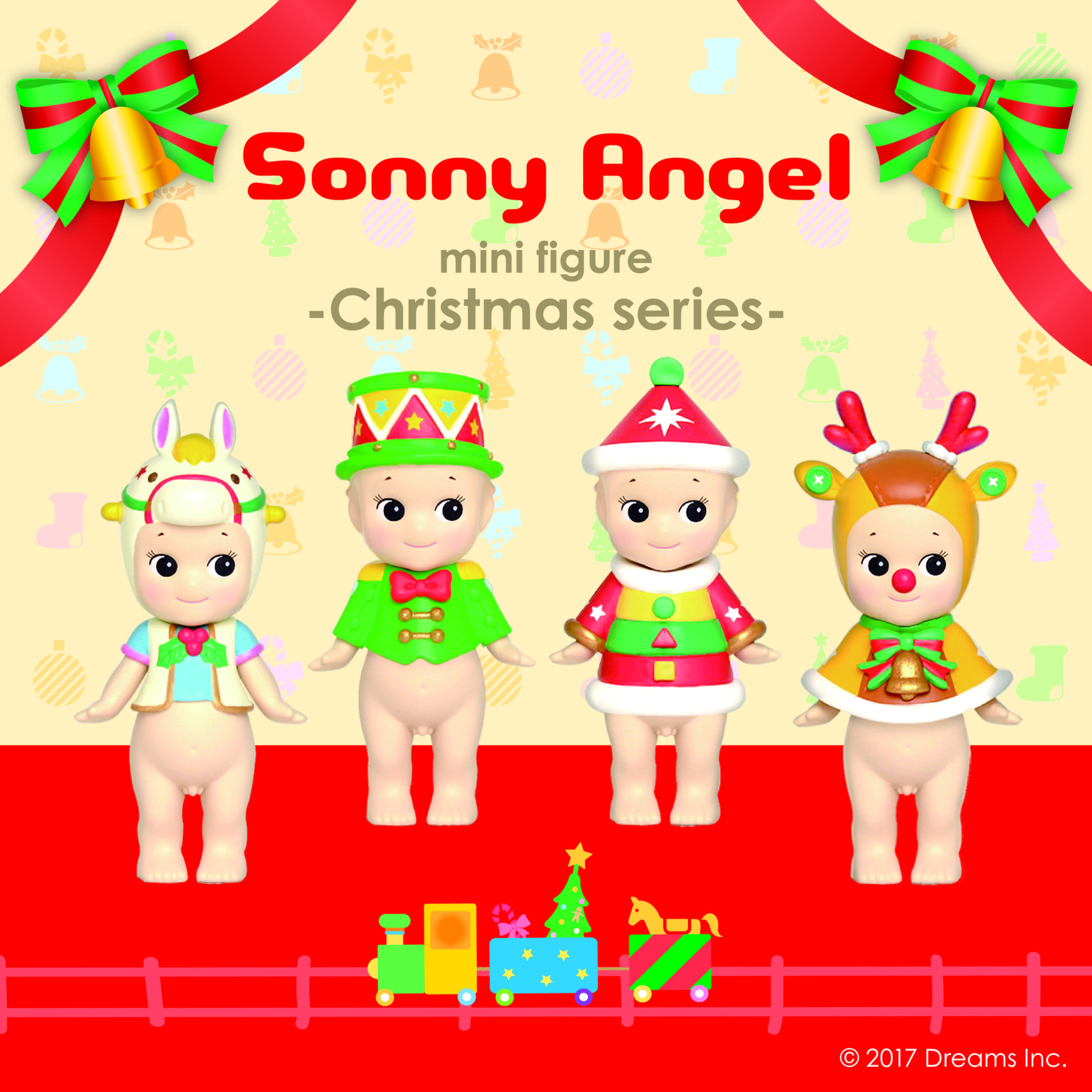 Christmas 2017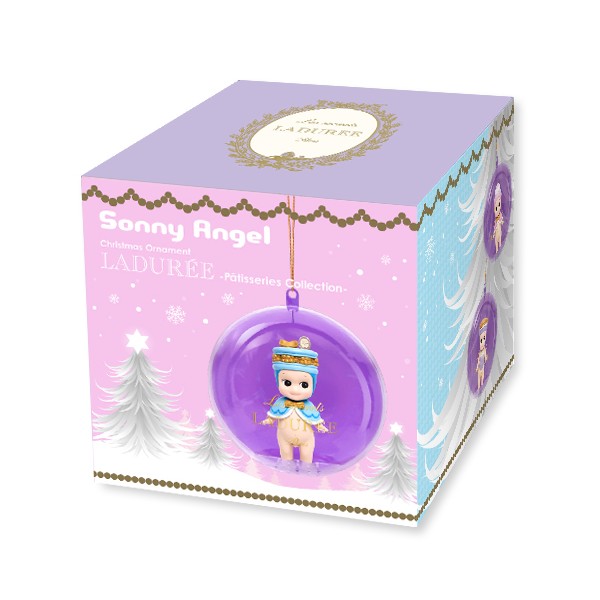 Christmas Ornament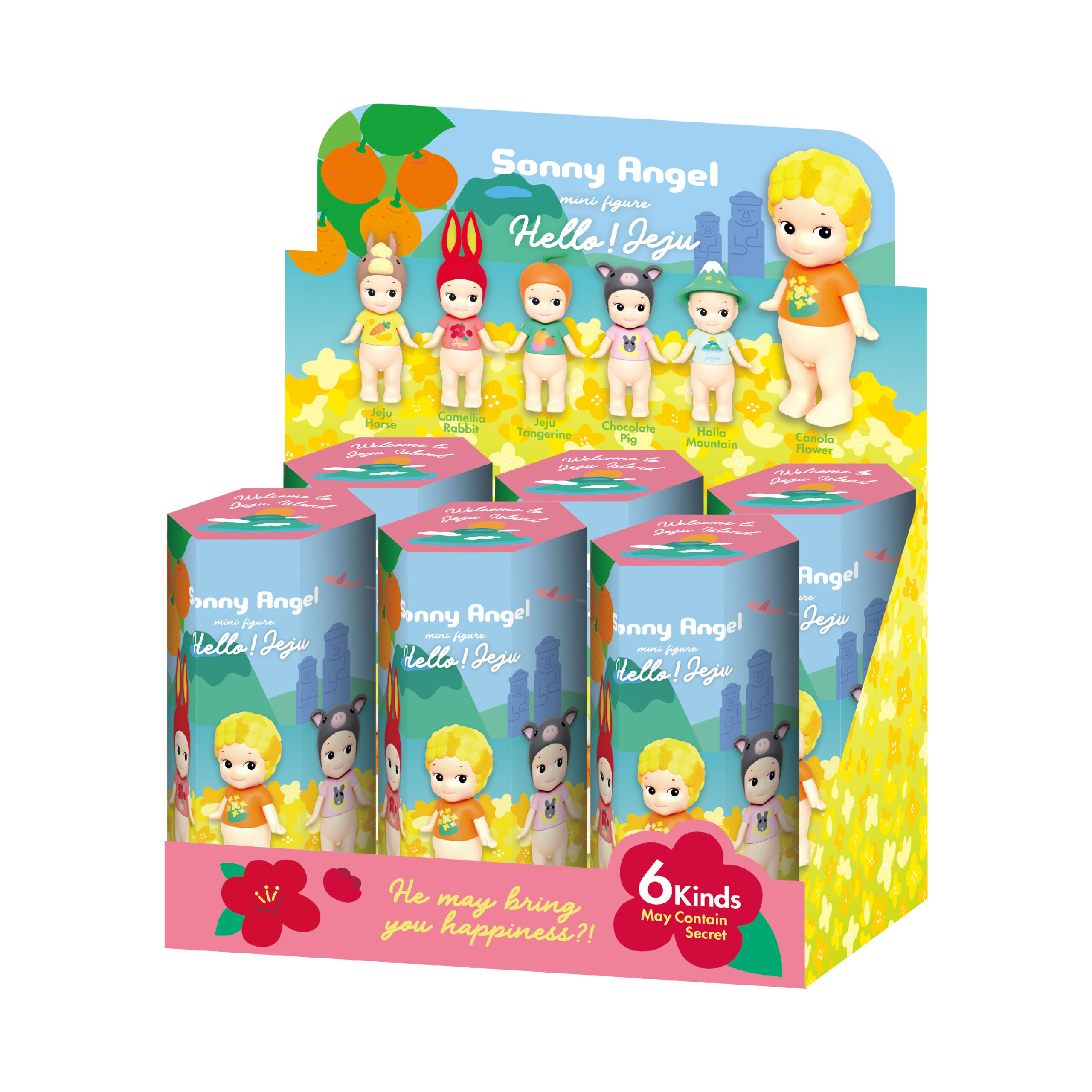 Hello! Jeju
Halloween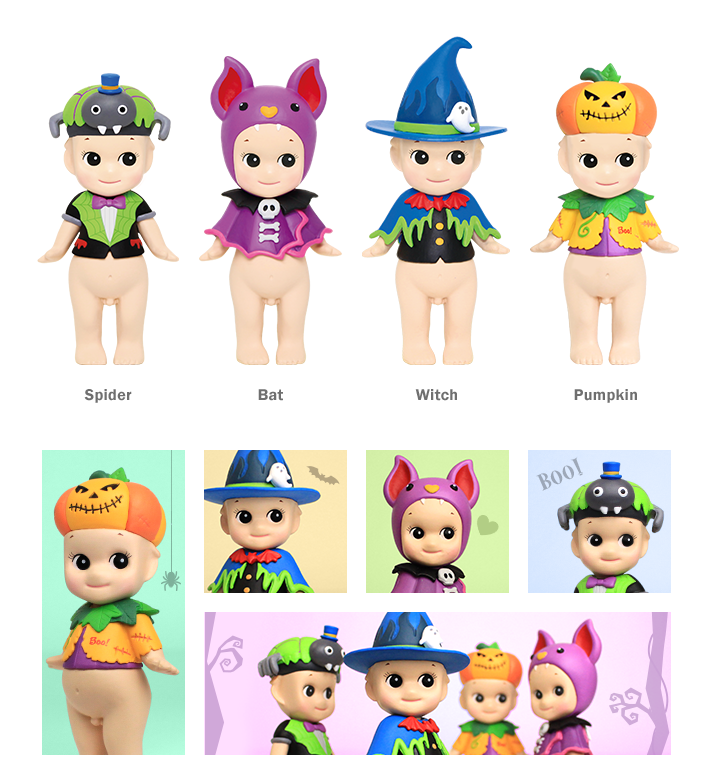 Halloween Trick or Treat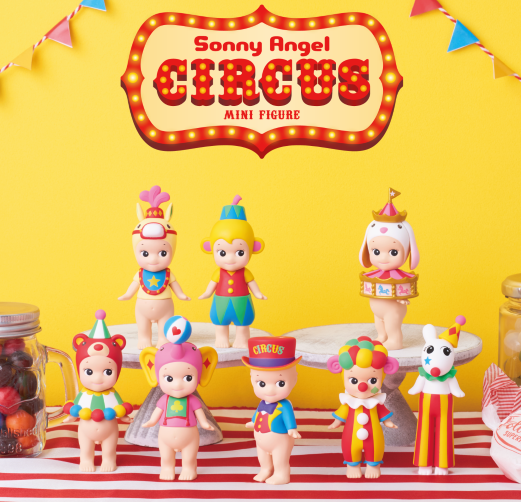 Join the Circus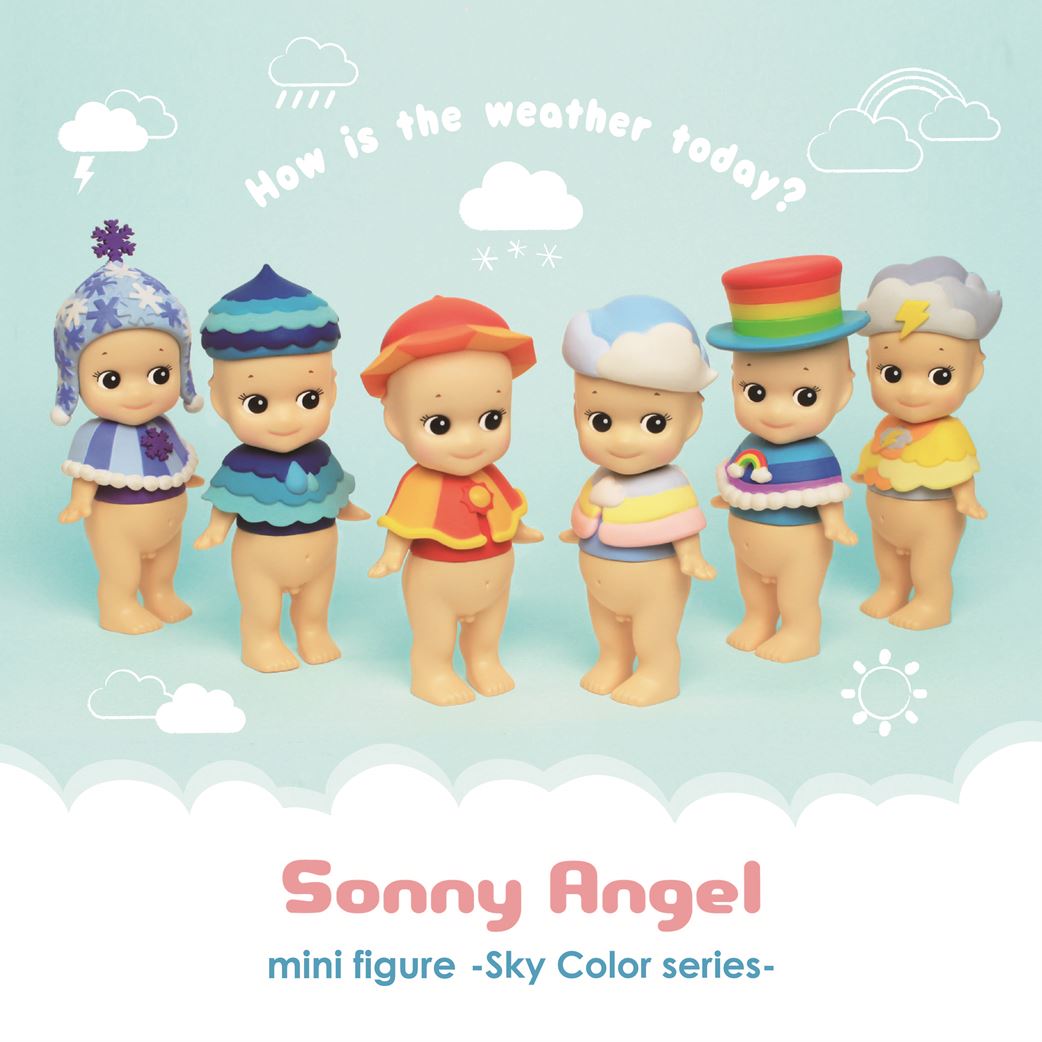 SKY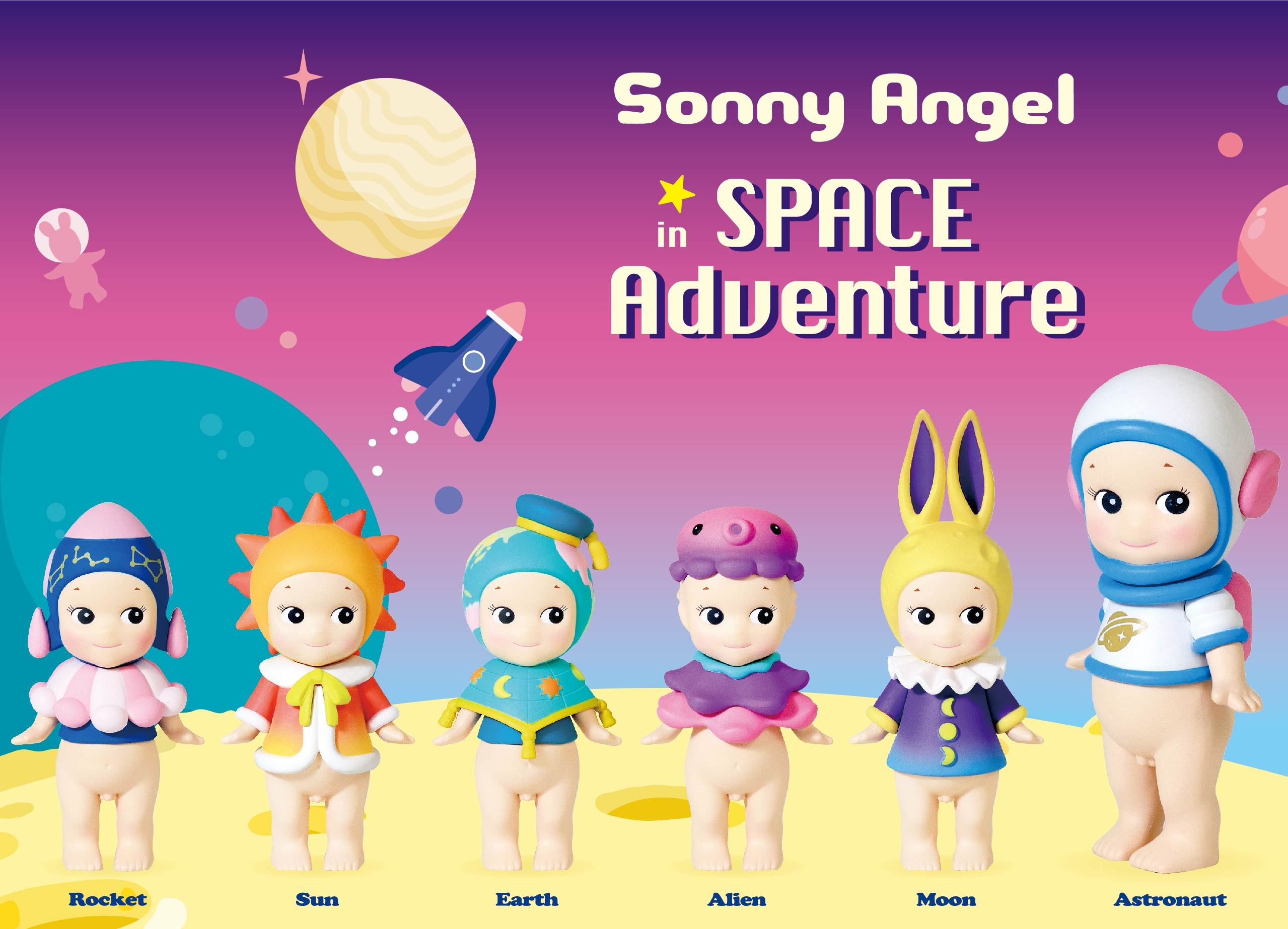 Sonny Angel Space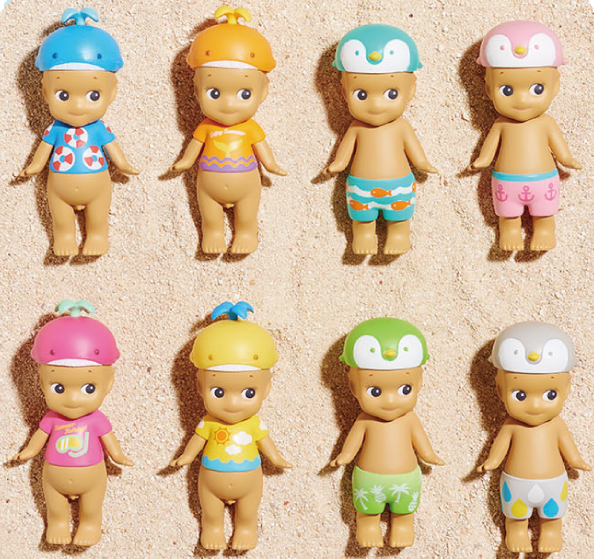 Summer Vacation 2018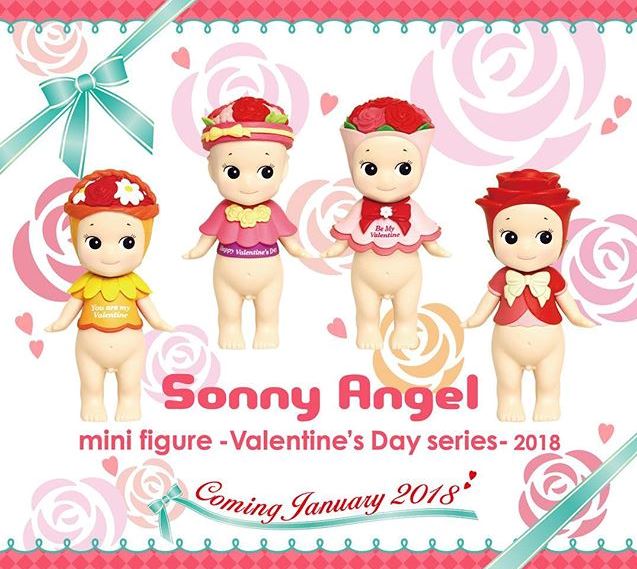 Valentine 2018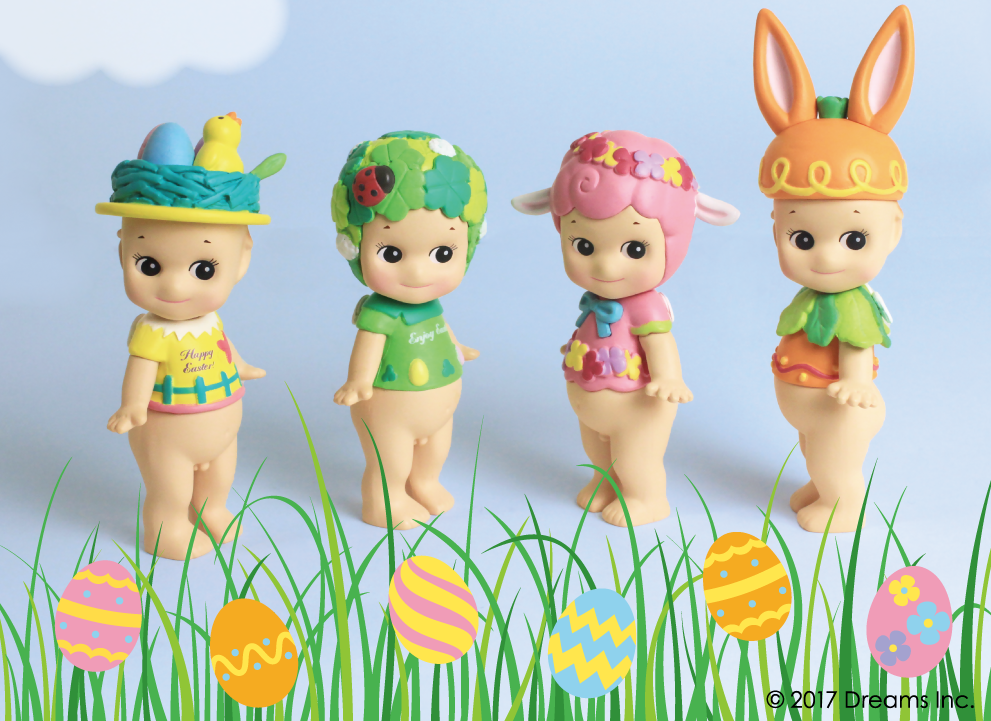 Easter 2017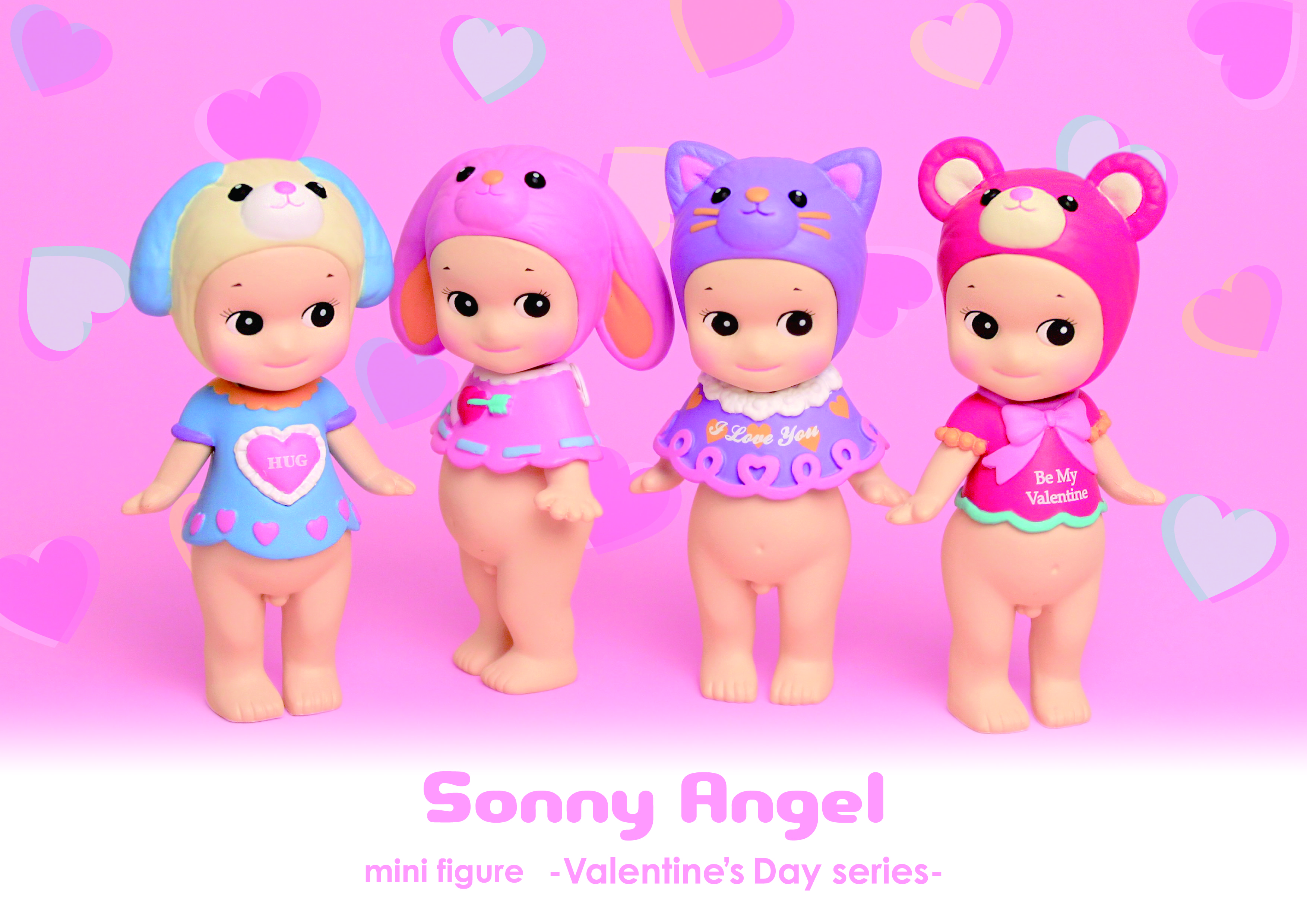 Valentine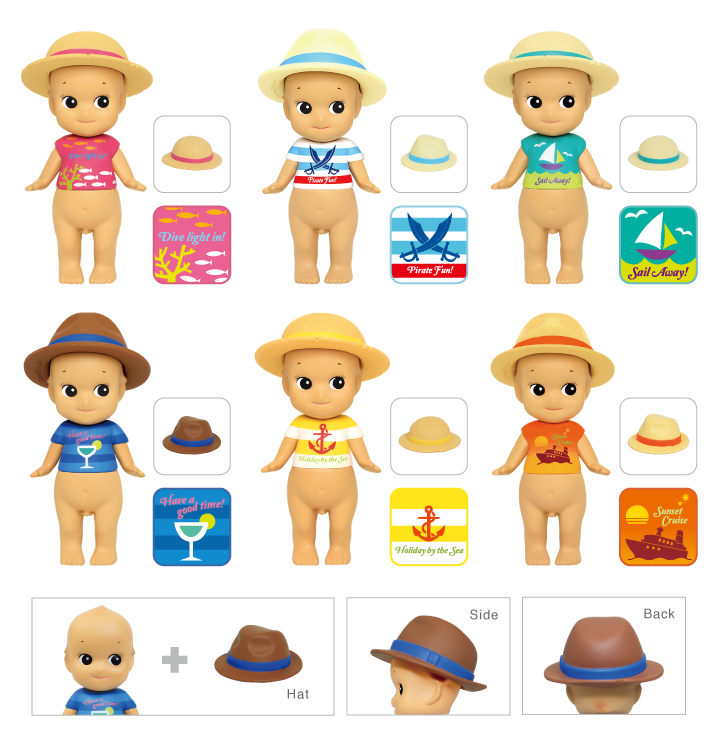 Caribbean Sea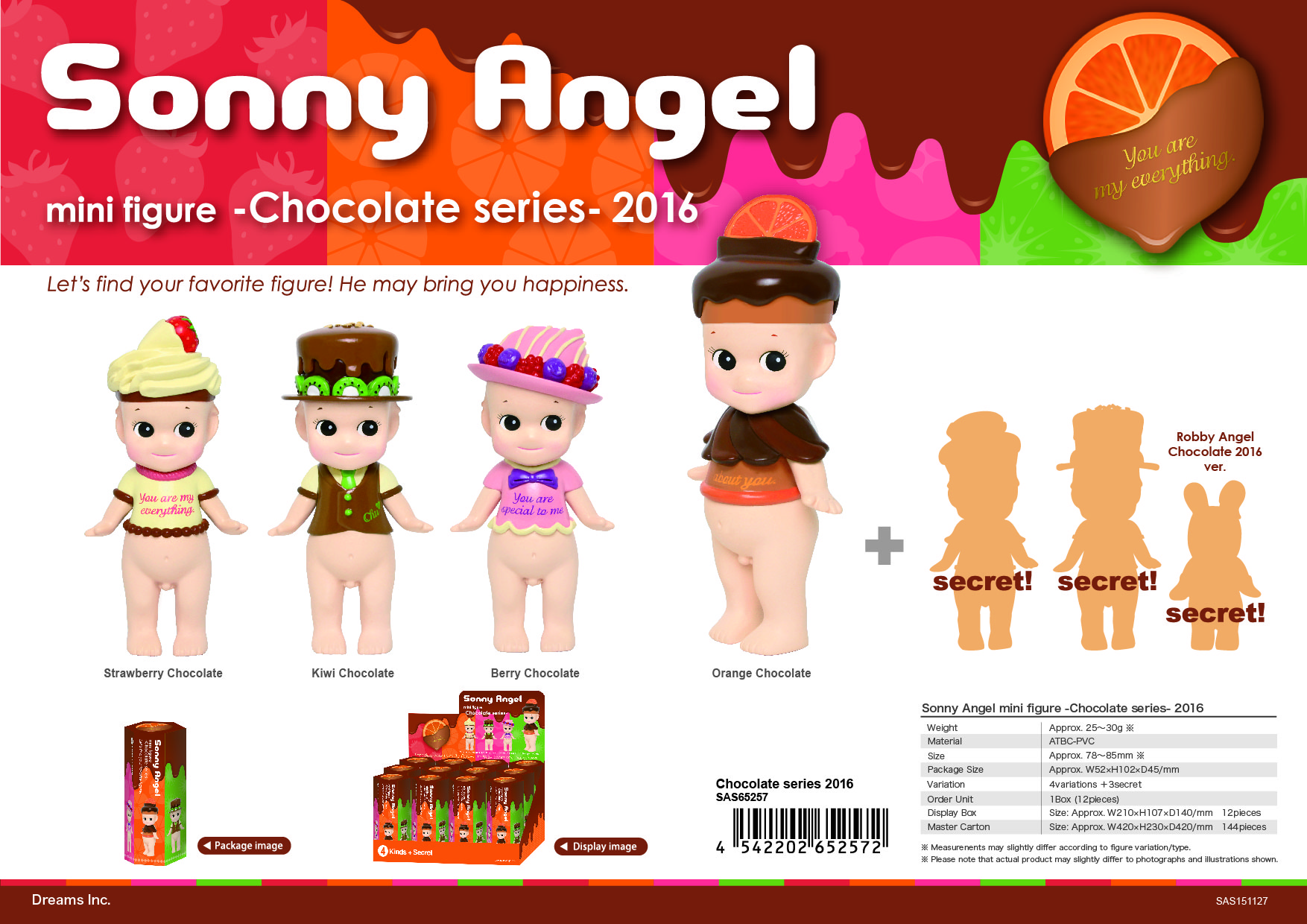 Chocolate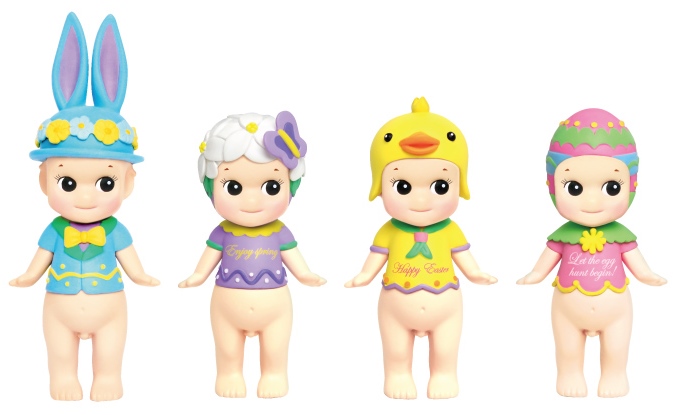 Easter 2016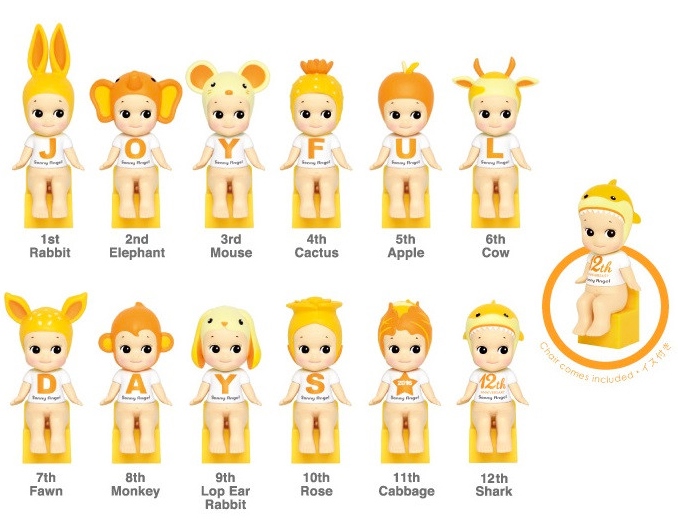 12th Anniversary
Japanese Good Luck

Sonny Angel wearing traditional Japanese lucky charms will bring you "healing" and "happiness". Motifs such as the Lucky Cat, Daruma doll and Raccoon Dog are symbols of "good luck" in Japan.


There are 6 regular Figures + 4 Lucky Figures + 2 secret Figures for a total of 12 types. Half the fun is finding out which Sonny Angel you will meet when you open the package.

Item no.: 44JGL

A display contain 6 dolls. There is no guarantee to get the total lineup in one display.

Cat Life

In this series, Sonny Angel is turned into a Cat! The gentle gaze and warm presence of cats harmonize with the charm of Sonny Angel, soothing our minds and healing daily fatigue.

Cute cats are familiar to us and help to add meaning to our daily lives. In addition to the expected secret figures, special "lucky figures" have been added for this series. Enjoy the feline world with 14 Sonny Angels in adorable cat costumes.

There are 9 styles + 3 Lucky Figures + 2 Secret Figures for a total of 14 types. Half the fun is finding out which Sonny Angel you will meet when you open the package.

Item no.: 44CL

A display contain 9 dolls. There is no guarantee to get the total lineup in one display.

Christmas 22

This year's Christmas series can also be enjoyed as an ornament. The design is inspired by wooden ornaments lined up in a warmly lit Christmas market. Decorate your Christmas tree or your room with Sonny Angel to bring a little warmth and comfort to the dark, cold winter.

Of course, you can enjoy Sonny Angel Christmas figures like conventional mini figures – standing side by side in your collection.

There are 6 types of figures + 4 secrets for a total of 10 types. Half the fun is finding out which Sonny Angel you will meet when you open the package.

Item no: 44J22

Christmas 2017

Sonny Angel Christmas 2017

This year Sonny Angels are dressed as wooden & tin toys! In addition to Santa Claus, there is a reindeer with antlers, a tin soldier, and a wooden horse with a cute tail!

All are invited to the Sonny Angel Christmas party this year! These unique Sonny Angels make the perfect stocking stuffers.

Celebrate this Christmas with these unique Sonny Angels.>

Item no.: 44J17

1 piece. 4 kinds. Blind Boxed.
Plus secret figures and Robby Angel to look out for! Please note secret figures appear randomly.

Christmas Ornament

Christmas Ornament Ladurée Pâtisserie Collection!

This is a collaboration between Sonny angel and the famous pâtisserie brand, Laduree!

Hang them on your tree and enjoy a Sonny Angel filled Christmas time!

Figures can be taken in and out of the Ornament casing at any time.

Total of 6 different figures + 1 Secret figure.

Item no.: 44JO15

Hello! Jeju

Jeju Island in South Korea is full of nature and beautiful sea. This island, which has many world natural heritage sites, is also known as a filming location for various popular Korean dramas, and is a popular resort area visited by many tourists from all over the world. This series expresses the charm of Jeju Island with Sonny Angel.

There are 6 types of figures + 2 secret for a total of 8types. Half the fun is finding out which Sonny Angel you will meet when you open the package.

Item no.: 44HJ

Halloween

Updated Halloween Trick or Treat with new secrets

Sonny Angel Halloween Series 2021" has been very popular since its release last year. To entice you to add to your collection, newly colored secret figures will be randomly added to the series! With the new figures joining the series, it has become brighter and more lively.

There are a total of six new secret figures. Purple, pink and green Sonny Angels & Robbie Angels will colorfully decorate your Halloween display.

Item no: 44H21

Halloween Trick or Treat


This year's Halloween Sonny Angels are all dressed up
and ready to trick or treat!

Total lineup of 4 different figures + 2 Secret + 1 Robby Angel Halloween 2016 Ver.

The secret figures and Robby Angel figure are distributed randomly and may not always be included in one assort box.

Height from approx. 7,5 cm

All figures are randomly packaged in blind boxes.

Item no.: 44H16

Join the Circus


Sonny Angel Circus series - Join the Circus edition

The Circus Series, which gained popularity since its launch in 2019, has been renewed with new characters and more fun!

In addition to the classic circus theme, this series is finished in a design that emphasizes the flashy production and flamboyant excitement of the circus! You will be wowed by the fascinating circus show that unfolds by Sonny Angel!

Item no.: 44CCI

6 kinds + secrets!
One assorted box contains 12 blind boxes.

SKY

Sonny Angel Sky

This time, Sonny Angel come dressed in outfits that express the different sides of the weather and sky. Although the weather is something that occurs daily, it is still special and relevant to our lives.

There are also secret figures to look out for!

Height from approx. 7,5 cm

All figures are packaged in blind boxes.

Item no.: 44SK

Sonny Angel Space


Sonny Angel Space

In "Sonny Angel in Space Adventure", Sonny Angel is wearing costumes of various space motifs such as astronaut, rocket, sun and moon.

The design of this series has a retro and nostalgic atmosphere. Sonny Angel in Space Adventure figures are even cuter when you display them with other space-themed items. Turn your room into a cosmic universe.

Item no.: 44SP

Summer Vacation 2018


Summer vacation 2018, swimming with Sonny Angel!

Total lineup of 12 different figures + Secret figures.

The secret figures are distributed randomly and may not always be included in one assort box.

Figures are distributed randomly. Please note that this assort box may not include all figures in the series.

Item no.: 44S18



Valentine 2018

Sonny Angel Valentine's Day Series 2018!

This year Sonny Angel's concept is "Flower Valentine". Each are wrapped as a adorable rose gift for Valentine's Day. Messages of love with Valentine's Day are printed on each.

Give one to your loved one, friends and family… or even to yourself as a special Valentine's Day treat!

Total lineup of 4 different figures + Secret figures. The secret figures are distributed randomly. All figures are packaged in blind boxes.

Item no.: 44V18

Easter 2017

Sonny Angel Easter 2017

There is the Easter Bunny in a cute carrot outfit, the Easter Egg with little eggs nested on his hat. The Easter Lamb wears a crown of flowers and Easter Clover who will hopefully bring you good luck!

Along with these 4 adorable variations, there are also secret figures to look out for!

Height from approx. 7,5 cm

All figures are packaged in blind boxes.

Item no.: 44E17

Valentine

Sonny Angel Valentine's Day Series 2017!

Sonny Angel come dressed as adorable soft toys this year for Valentine's!

Give one to your loved one, friends and family… or even to yourself as a special Valentine's Day treat!

Total lineup of 4 different figures + 2 Secret figures + 1 Robby Angel Valentine 2017 Ver.

The secret figures and Robby Angel figure are distributed randomly.

All figures are packaged in blind boxes.

Item no.: 44V17

Caribbean Sea

Summer Series Caribbean Sea

Cute and adorable tanned Sonny Angels come wearing colorful t-shirts, ready to relax by the sea.

Each Sonny Angel comes with a cool panama hat or classic straw hat.

Total lineup of 6 different figures + 1 Secret figure + 1 Caribbean Sea ver. Robby Angel + Secret item.

Height from approx. 7,5 cm

All figures are packaged in blind boxes.

Item no.:44CS16

Chocolate

Sonny Angel Chocolate Series

These detailed, sophisticated chocolate designs have been crafted with extra attention and care!

Enjoy the fruity and sweet world of Sonny Angel Chocolate series 2016!

The 4 different designs are Strawberry Chocolate, Kiwi Chocolate, Berry Chocolate and Orange Chocolate.

Height from approx. 7,5 cm

All figures are packaged in blind boxes.

Item no.:44C16

Easter 2016

Sonny Angel Easter 2016

This Easter series is more colorful and festive than ever!

The 4 different designs are Easter Rabbit, Easter Egg, Easter Chick, and Easter Lily.

Plus there are other secret angels to look out for!

Height from approx. 7,5 cm

All figures are packaged in blind boxes.

Item no.: 44E16

12th Anniversary

Sonny Angel 12th Anniversary Series!

In this year Anniversary Series, the cute sitting Sonny Angels are in vibrant yellow with the aim to bring joy and happiness to you!

Line them up in your favorite place, and enjoy their cuteness! When put together, their T-shirts spell "JOYFUL DAYS 12th Anniversary 2016"!

Blind boxed.

Item no.: 4412A
---

Artist Collection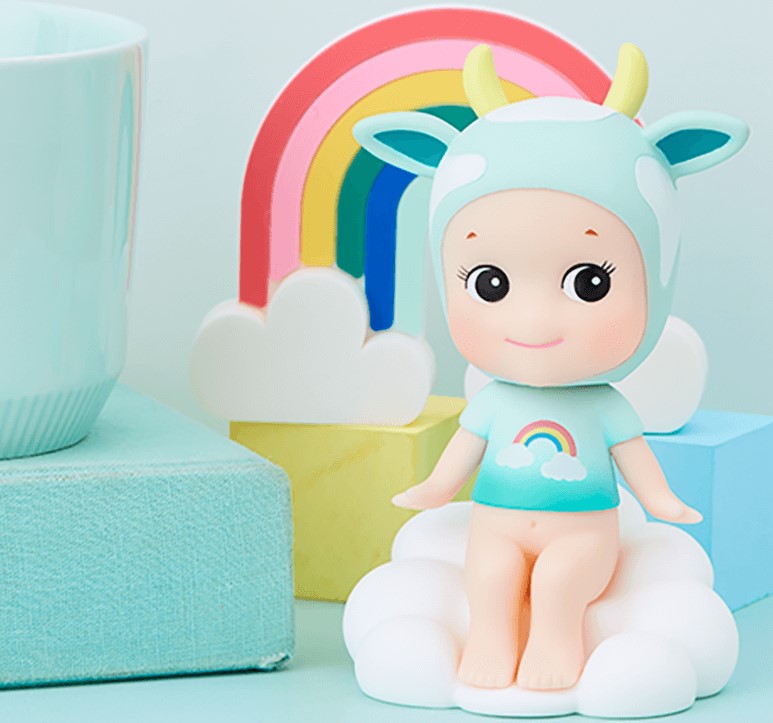 Bobbing Head Cloud Cow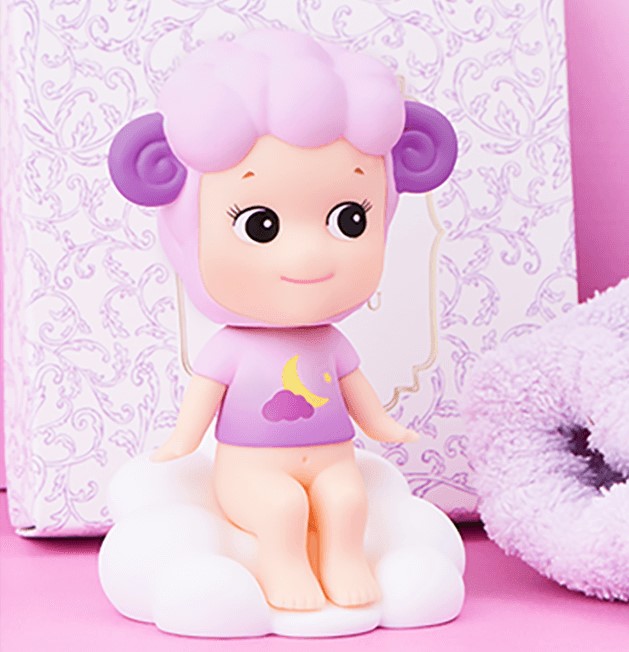 Bobbing Head Cloud Sheep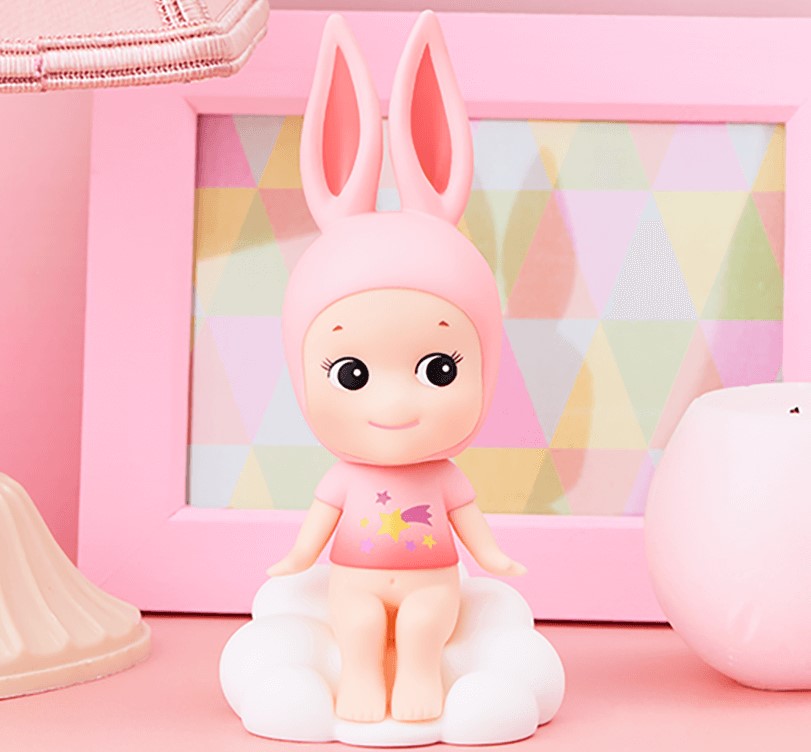 Bobbing Head Cloud Rabbit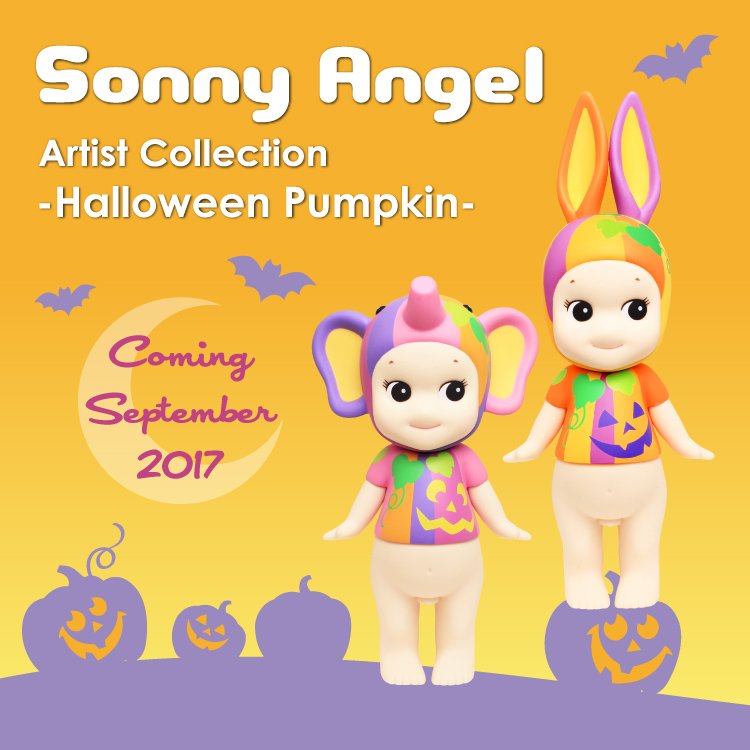 Halloween Pumpkin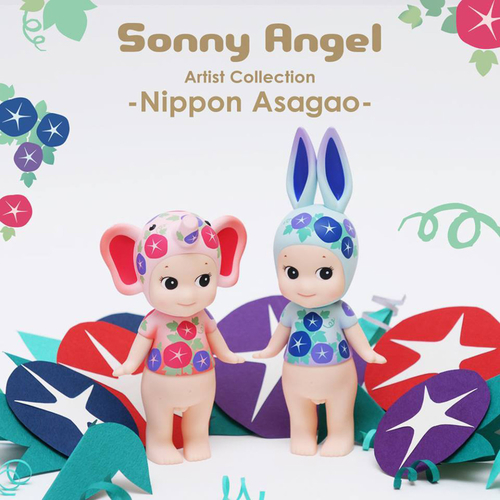 Nippon Asagao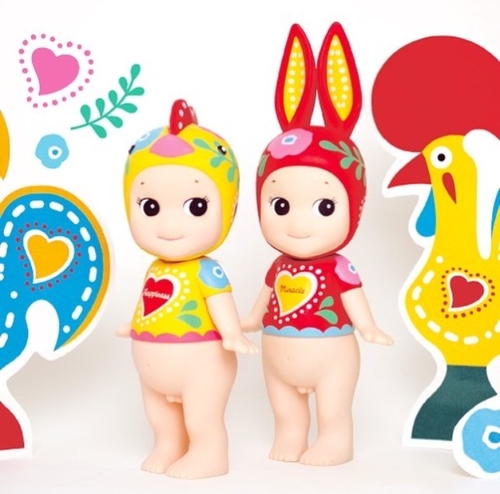 Lucky Galo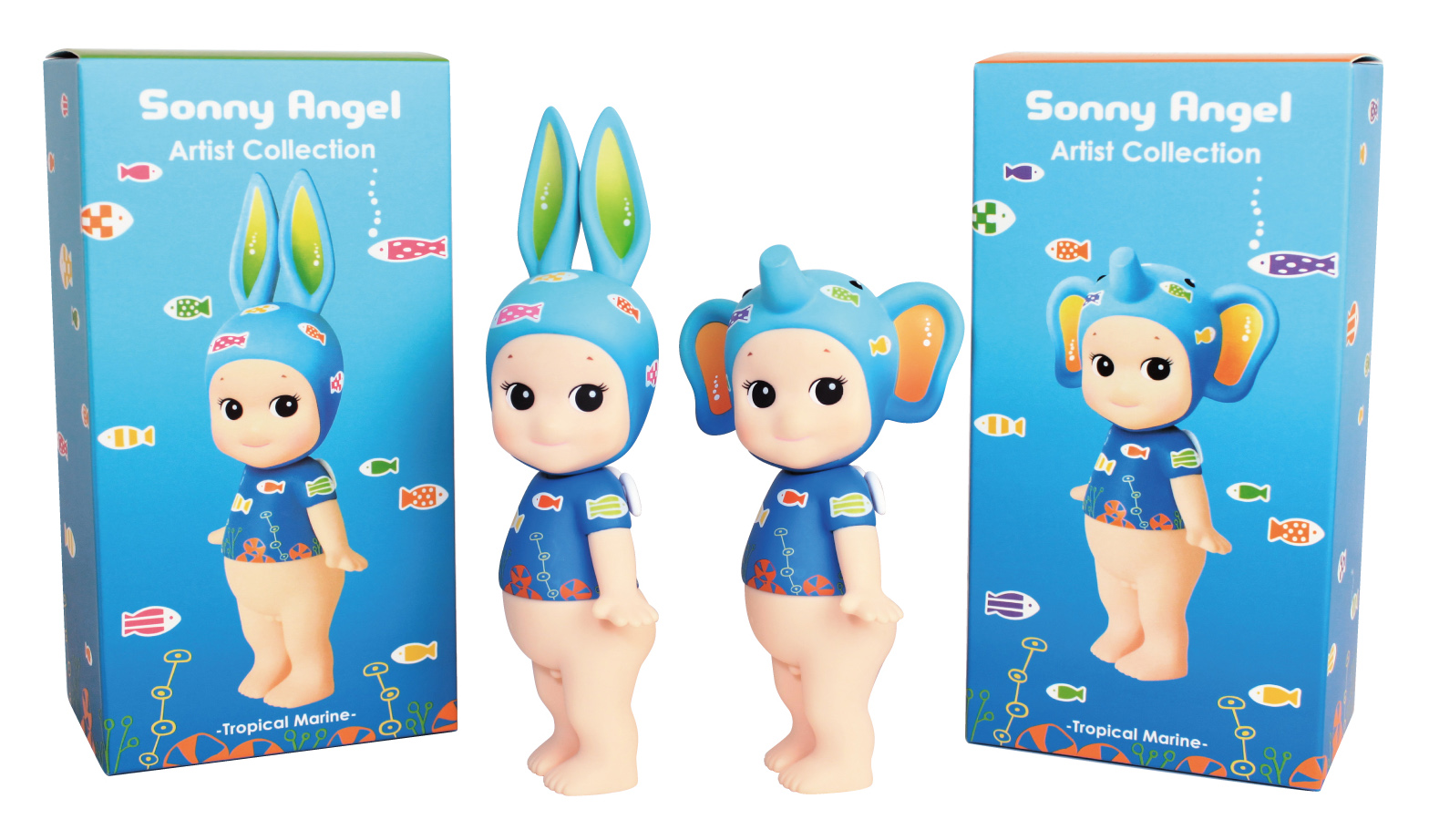 Tropical Marine
Bobbing Head Cloud Cow


Bobbing Head Cloud series - Cow

This series features cute pastel-colored designs with the theme of "The Sky."

You feel calm as you look at Sonny Angel, who gently watches from above the clouds. His head sways quietly either in your car or in your room. So cute!!

No matter where you put your Sonny Angel Bobbing Head, you will get pleasure from his companionship.

Item number: 44BC

Bobbing Head Cloud Sheep


Bobbing Head Cloud series - Sheep

This series features cute pastel-colored designs with the theme of "The Sky."

You feel calm as you look at Sonny Angel, who gently watches from above the clouds. His head sways quietly either in your car or in your room. So cute!!

No matter where you put your Sonny Angel Bobbing Head, you will get pleasure from his companionship.

The fleece of the Sheep looks like a cloud. This bobbing head's T-shirt shows the night sky illuminated by the moon. He will always gently watch over you.

Item number: 44BSH

Bobbing Head Cloud Rabbit


Bobbing Head Cloud series - Rabbit

This series features cute pastel-colored designs with the theme of "The Sky."

You feel calm as you look at Sonny Angel, who gently watches from above the clouds. His head sways quietly either in your car or in your room. So cute!!

No matter where you put your Sonny Angel Bobbing Head, you will get pleasure from his companionship.

The Rabbit is the most popular of all Sonny Angel minifigures. The coloring of this bobbing head recalls an image of the sky at dusk and his T-shirt design features evening stars.

Item number: 44BR

Halloween Pumpkin

Halloween Magic with Sonny Angel Artist Collection

The 11th Artist Collection series come with Rabbit and Elephant in colorful pumpkin designs, with the messages "Happy Halloween!" and "Trick or Treat" printed on their backs.

160% larger than mini figures.

Rabbit Size:  H15.2cm W6.3cm D4cm
Elephant Size:H12.1cm W7.0cm D4.5cm

Item number Rabbit: 44LHR17
Item number Elephant: 44LHE17

※ Each figure comes with a matching official Authenticity Certificate Card.

Artist Collection figures are available for a limited time only.



Nippon Asagao

This time, The Artist Collection come in a more classical Japanese themed design,with Morning Glory flowers which are traditionally used to represent the summertime in Japan. "Nippon Asagao" means "Japanese Morning Glory" in Japanese.

The dolls of the artist series are 1,6 times larger than the mini figures.

Elephant Size:H12.1cm W7.0cm D4.5cm

Limited edition. Each figure comes with an official Authenticity Certificate Card.

Elephant Item no.: 44LNE

Lucky Galo

The 10th Sonny Angel Artist Collection series features the popular Rabbit along with Cockerel, the zodiac animal for 2017.

Design is inspired from "Galo de Barcelos", a legendary Portuguese rooster that symbolizes good luck and happiness.

The dolls of the artist series are 1,6 times larger than the mini figures.

Rabbit Size: H15.2cm W6.3cm D4cm

Cockerel Size: H12.5cm W6.3cm D4.7cm

Limited edition.

Cockerel Item no.: 44LLGC Rabbit Item no.: 44LLGR

Tropical Marine

For the 6th Artist Collection, the Rabbit and Elephant are dressed up in marine themed clothing.

The dolls of the artist series are 1,6 times larger than the mini figures.

Limited edition.

Rabbit Height:15.2cm Width:6.3cm Depth: 4.0cm

Elephant Height: 12.1cm Width:6.3cm Depth:4.4cm

Rabbit Item no.: 44LTMR
Elephant Item no.: 44LTME